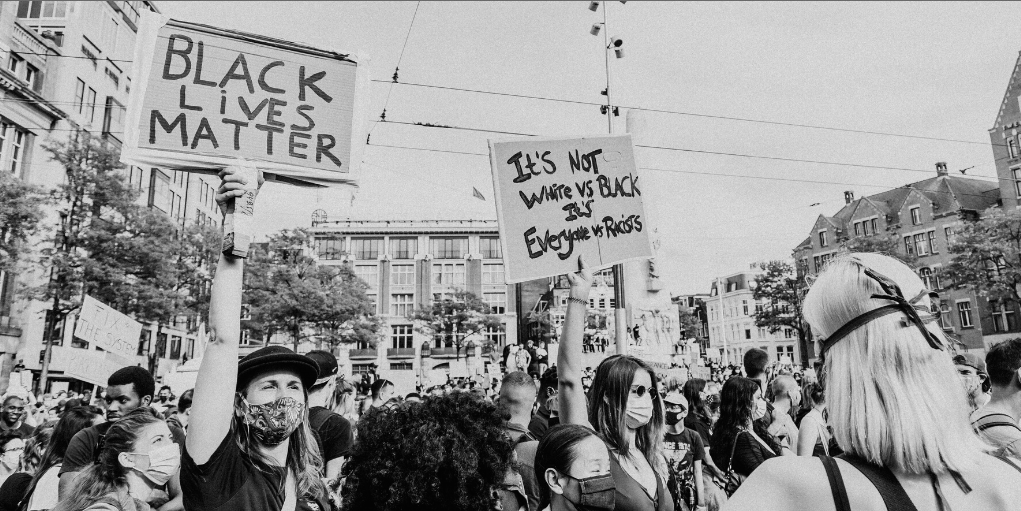 How to talk about #BlackLivesMatter as a brand on social media
Black Lives Matter is the topic that's dominating conversations right now. If you are reading this, your brand probably shared a black square or update in solidarity with the fight against racism, and has made active decisions to do more in the fight against racial inequality and social injustice. But how do you communicate this on social media?
As a brand or social media manager you may not be used to talking so directly about issues of race – change is happening and we have to adjust our brands as well as ourselves to ensure momentum in this movement. We have put this post together to help inspire ongoing social media conversation around racism, diversity and sharing actions. Posting once to show your support to Black Lives Matter and then continuing your social media promotions and campaigns as usual is not good enough – people want to see evidence of your ongoing commitment to change.
Depending on the size of your organisation, it's important to note that for many larger companies, social media is simply amplifies the decisions made at the top. Below are some suggestions to actions your business can take to support the cause:
Once your business has decided to take action, you can publicise this on social media:
1. Update your profile to reflect your support
This can include:
An updated black logo
A #BlackLivesMatter cover image for your Twitter, LinkedIn, Facebook etc
A personalised bio to show solidarity, a link to a relevant page on the topic on your website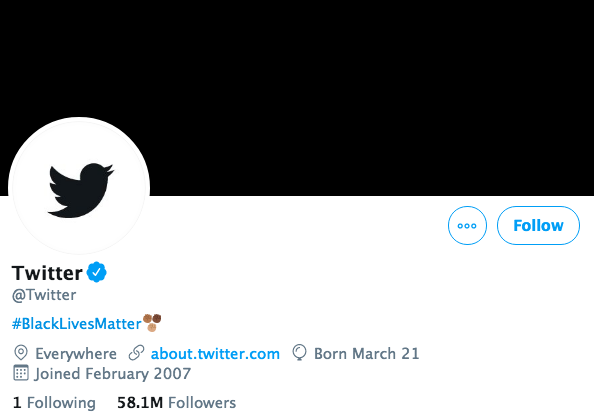 2.  Share a message from the top
Has your director or CEO shared a personal message on the subject? Social media audiences engage better with the human beings behind your company. Many brands have published their internal CEO update online. Encourage them to create a video on the subject if possible.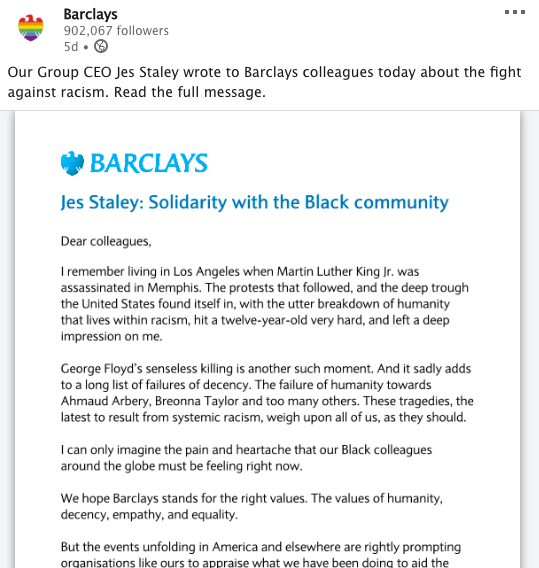 3. Share your donation to social injustice causes
Has your company put their money where their mouth is? By publicly pledging your are donation you are holding yourself accountable and encouraging other to do the same. We want to know how much and to where you are donating. Examples below.
We stand in solidarity against racism and violence. When members of our community hurt, we all hurt. We're pledging $1M in support of efforts to address social injustice.

— YouTube (@YouTube) May 30, 2020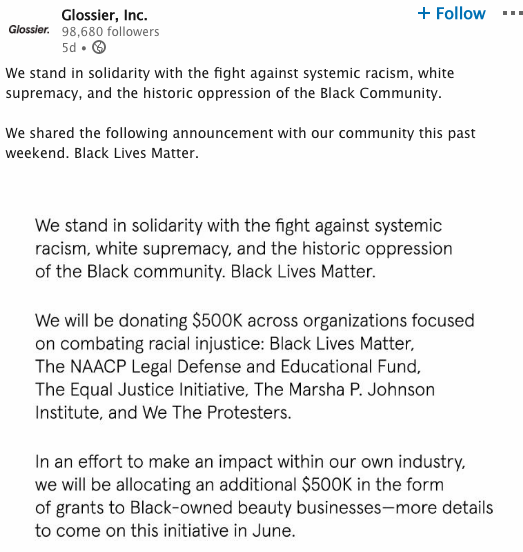 4. Demonstrate how you are actively promoting diversity 
As a business that stands up to racism, your audience want to see how you're actively promoting diversity within your organisation. For example have you:
addressed your internal structures
established a black / diversity network
established ongoing open discussion eg webinars / podcasts
5. Amplify black voices
Is your brand following a diverse enough range of pages on social media? Follow black owned businesses and creators in your industry. Engage and collaborate with black influencers. Highlight the work of black people in your industry.
Being a strong ally begins with listening, so we are sharing stories to amplify perspectives from the Black community. https://t.co/NlZWOf5AZ6 pic.twitter.com/VBRdw4K1qE

— LinkedIn (@LinkedIn) June 3, 2020
6. Don't be afraid to actively respond to racism
Some racist people may respond to your brand's activism with disappointment. It is totally acceptable and the right thing to do to call it out where you see it. We particularly love this example from Yorkshire Tea and PG Tips:
Please don't buy our tea again.

We're taking some time to educate ourselves and plan proper action before we post. We stand against racism.
#BlackLivesMatter

— Yorkshire Tea (@YorkshireTea) June 8, 2020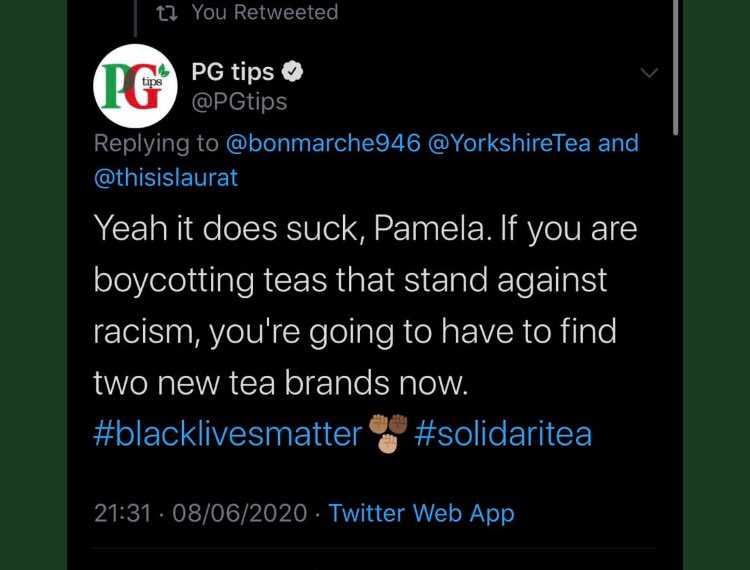 Throughout the social media process, it's a good idea to talk to your black colleagues, and gain their input on your BLM social media strategy. Black people have been personally affected by the recent injustices and consequent protests and race discussions. To ensure accuracy and diversity of your messages it's useful to engage with black colleagues to discuss 1. what the key messages are and 2. how you are going to present them.
This list is not exhaustive! If you have an idea or a good example, let us know in the comments below.
Racism does not adhere to social distancing.

Amid the already growing fear and uncertainty around the pandemic, this week has again brought attention to something perhaps more pervasive: the long-standing racism and injustices faced by Black and Brown people on a daily basis. 🧵 pic.twitter.com/8zKPlDnacY

— Twitter Together (@TwitterTogether) May 29, 2020
Further info: