The words 'social media audit' can sound intimidating – what do we mean by audit? Essentially it is a health check that will:
make sure your social media efforts are effective
identify areas for improvement
Social media marketing is TIME-CONSUMING and let's be honest, can be downright overwhelming. Taking the time to understand whether your investment is delivering results and where to place your resources in the future is crucial, and a social media audit can highlight areas that need attention to bring you the best results.
Genuine, straightforward, and objective advice from an established social media expert can really help to boost your business goals.
What will you gain from a social media audit?
Social media strategies can be costly (in the $1000s) quite quickly. A social media audit costs a fraction of that investment and can provide the answers you need to keep your goals on track.
Find out why your content isn't getting engagement
Pinpoint areas for improvement
Understand the demographics of your fans and target a more defined audience.
Find out how you perform against competitors
Gain valuable feedback and best practice from an expert who lives and breathes social every day.
Our approach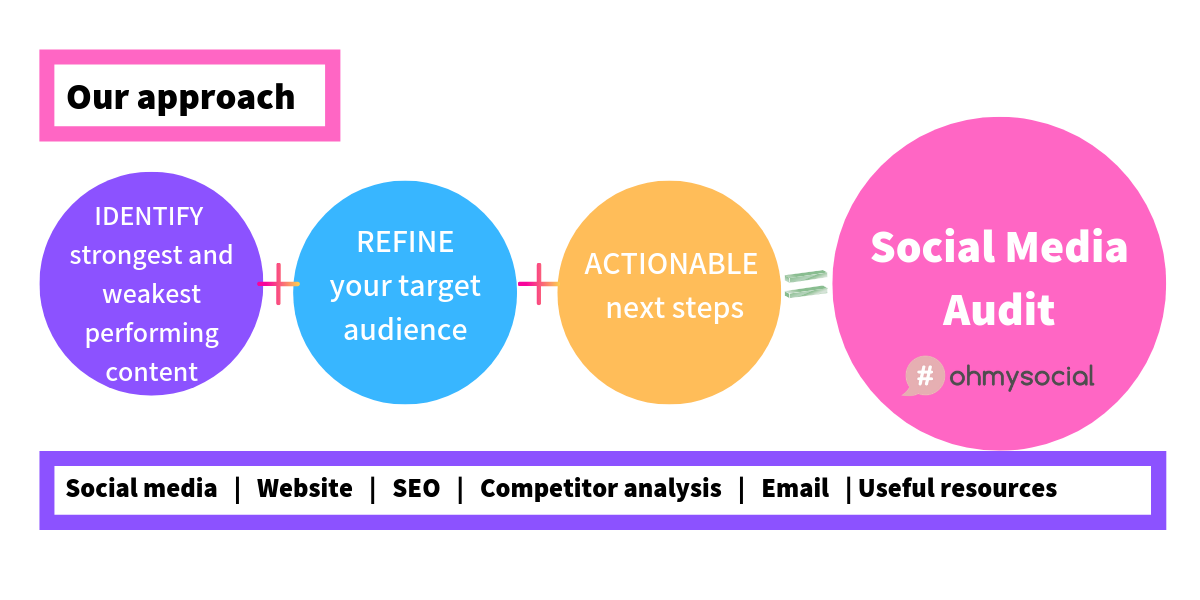 Our bespoke social media audit service analyses your brand's existing social media, providing you with actionable feedback to ensure you deliver value to your customers and audience. We look at:
What is working and giving you optimum results
What isn't working and is failing to give good returns
What can be done to achieve better results on your social media platforms
Many agencies charge tens of thousands of dollars and take months to complete a social media audit. At oh my social the process is very simple: we look at each of your social media platforms and give you actionable recommendations to meet your objectives.
We've been in the social media space for nearly 10 years and love helping our clients with this service. To learn more and book your social media audit today, click–> here. 
Work smarter, not harder.